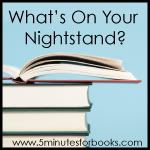 I've been reading quite a bit this month and I am hoping that the next month will be as successful. However, I also have a big research project due so...
Without further ado here is my plan:
I want to get on with some of my challenges so from the challenges:
My Antonia
by Willa Cather
This book interests me because it is about a woman by a woman from a time when this was not necessarily something common.
A Horse Called Wonder
by Joanna Campbell
This is for the Childhood Favourites Challenge. As a tween and early teen I read these books all the time. I adored them! I wanted a thoroughbred of my own.
And then...
Kindred in Death
by J.D. Robb
BookDepository
sent me a message over the weekend to say that they should be shipping this soon. I am so excited. I love J. D. Robb's books and I really want to find out what happens next. So I guess I am haunting the mailbox over the next few days.
Guardians of the West
by David Eddings
This is part of my re-read of The Belgariad and The Mallorean. This is the first book in The Mallorean. I am really looking forward to reading this.
I will continue reading the following books. They will probably carry over into December since I only read a few pages at a time.
The History of the Ancient World
by Susan Wise Bauer
How to Read a Book
by Mortimer J. Adler and Charles van Doren
I am really hoping to get some more reading done than these books but I would like to pace myself especially since I will loose a weekend of reading with Thanksgiving.
Disclaimer: I am an Amazon Associate. Clicking on the links above takes you to Amazon and if you buy the books I get a small percentage.