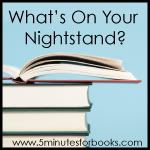 Cranford & Other Stories
by Elizabeth C. Gaskell. I'm reading this for the
Classic Circuit
. It is stopping by my blog on December 18th.
The Year of Living Biblically
by A. J. Jacobs. This is the last of my books for the
Fall Into Reading Challenge
. I picked it up over the summer at
Malaprop's Bookstore
in Asheville, NC. I loved that bookstore. It is an amazing Indie bookstore.
Män som hatar kvinnor
(
The Girl with the Dragon Tattoo
) by Stieg Larsson. I'm reading this in Swedish because for years I have been saying that whenever possible you should read a book in the language it was actually written. I completely missed the hype when these books came out in Sweden because I was living in the UK. Then I missed they hype in the UK because I moved back to Sweden. I thought it was time.
Hogfather
by Terry Pratchett. I'm reading this one because I wanted to read it for the holidays. Now I am also reading it for the
2009 Holiday Reading Challenge
. I might also watch the movie version.
I will be reading other books in December as well. I just haven't quite decided which ones yet. I want to keep it a bit loose. I will be off over Christmas and I might get loads of reading done. Or I might not get any. I don't want to stress about it so…